In this day and age where opportunities for women in the different fields of work are opening up, I have come to appreciate how Triple PH continues to provide women like me with an opportunity to develop and explore my skills especially in the digital and technology industry. Despite these advancements, women in the tech industry are still underrepresented, but I am glad that they are given an avenue to learn more about what they can do in the workplace and how they can be better people as well. Triple PH is a tech-driven, women-led digital and design company and we will be celebrating its fifth year anniversary this year!
Here are five things I have learned about working in a women-led company:
1. There will always be room for improvement, progress is not linear
Over the past few years, we have learned and likewise, unlearned a lot of things as technology evolves along with the times and the circumstances we are in. We are encouraged to quickly adapt to the quickly changing pace of technology. With this, we took lessons from working with brands from different industries. As we went through the ever changing process of adapting, learning, and unlearning, we got better and are here today serving you with the best we can.
2. Community is everything
Triple PH was born out of the desire to break traditions through digital solutions by Miss Taryn Navaro and Miss Angela Tiotangco-Alvarez, who are the two proud founders of multiple businesses that mostly revolve around digital and technology. From the founders to a team or 10 people in the team today, they have surely advanced in many ways through the business and even in their relationships with each other. Not only do they consider themselves as teammates, but they have found a friend in each other. Working together is so much better when you are comfortable with the people you work with and love the work that you do at the same time.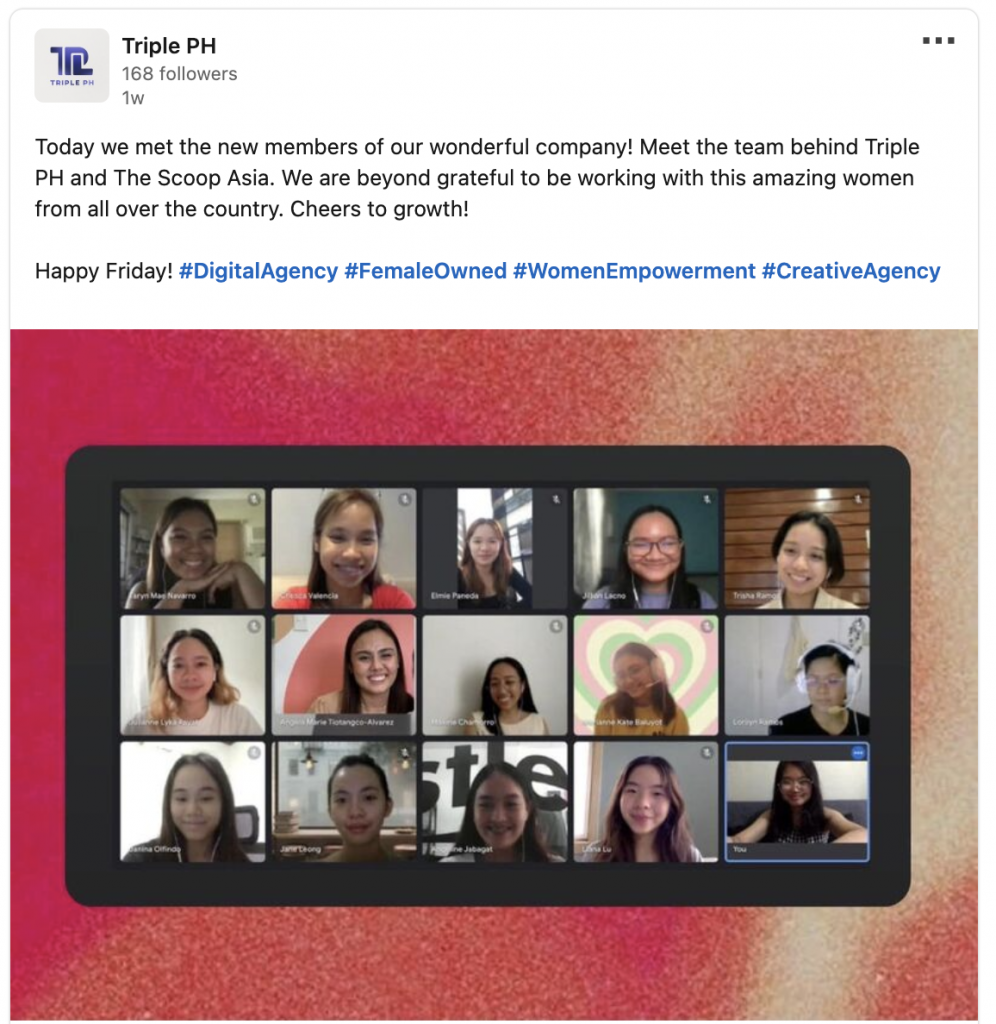 3. Celebrate your wins
With every achievement you have in work, simple or difficult it may be, celebrate it. You should be able to enjoy the work that you do and when you do it well, don't forget to reward yourself because you definitely deserve it. At the end of the day, the person who will appreciate all that you do and are is, you!
4. Cultivate your potential and develop your skills
See it in yourself that you can be more than you think you can be and with that you can be able to do more than your abilities. Be open to learning new skills and learn from everything you will be experiencing, whether it be positive or negative. Have a growth mindset as much as you would have a goal mindset. You have got what it takes to build up yourself through learning, so take that opportunity and go for your goals through growth!
5. Stay grounded on your "WHY"
When in doubt, always ask yourself why you started in the first place. It's important to stay grounded on something, your core why. This is so whenever you feel like you're lost and burnt out, you'd have something to encourage you to get back on your feet. The road ahead of you will be tough, but so are you!
With the short time I've spent as an intern here at Triple PH, I got to appreciate how women can be so powerful in many ways. The people I have gotten to know and work with are able to empower each other to do better and be better. Being in a women-led company has taught me that women can do more than what is thought of them. We are more capable than what they think. Women can do wonders for the digital and technology industry. Women can do anything they set themselves to and you definitely can too!