Ladies, let's raise a glass to the power of food and wine—the age-old companions that bring people together in the most delightful way. There's something about shared laughter and good food and wine that create lasting memories. And what better way to celebrate these moments than by diving headfirst into the upcoming Davao Food and Wine Festival?
This festival is an absolute must on your social calendar. But what makes this event even more exciting is that it's the very first of its kind in Davao, offering a unique experience that you won't want to miss.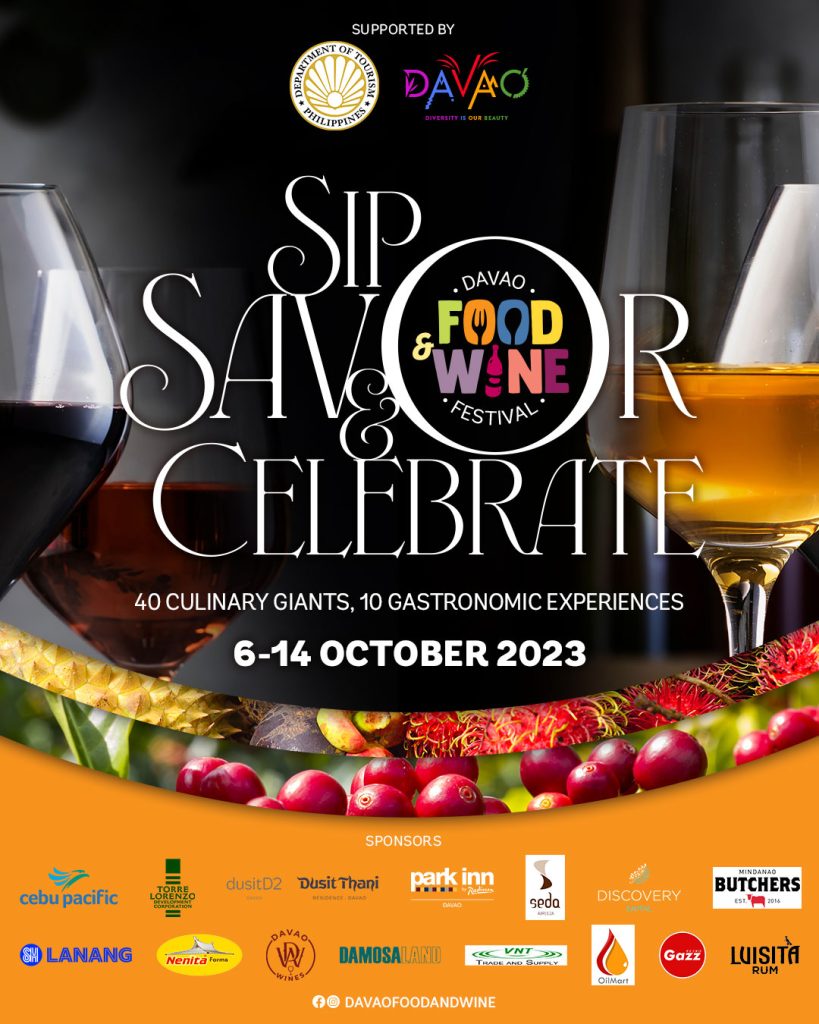 A Feast for the Senses
The Davao Food and Wine Festival isn't just your average food event; it's a celebration of the rich culinary traditions and diverse cultural heritage of the Davao region. As someone who appreciates the finer things in life, you'll relish the opportunity to embark on a journey that indulges your senses in every possible way.
But here's the icing on the cake, ladies: this festival isn't just about gourmet experiences; it's about celebrating local identity and supporting the hardworking farmers and producers who make it all possible. Sustainability and resilience are at the heart of this event, and as women who understand the importance of these values, you'll appreciate the festival's dedication to a more sustainable local food system.
A World of Culinary Exploration
Now, let's talk about what makes this festival truly irresistible. It's not just about savoring exquisite dishes and fine wines; it's about learning from celebrated chefs and experts with diverse culinary backgrounds. This cross-cultural exchange of ideas, techniques, and flavors will make you feel like a culinary expert in no time.
With a week full of mouthwatering events, the Davao Food and Wine Festival promises a delightful blend of work and play. As women who embrace the art of balance and enjoy the finer things in life, you'll find plenty of opportunities to satisfy both your cravings for good food and your appreciation for great wine.
A Week-Long Extravaganza
This festival is not just a one-day affair; it's a week-long extravaganza that will take you on a culinary adventure like no other. From October 6 to 14, 2023, mark your calendars and immerse yourself in a series of culinary experiences that will leave your taste buds tingling.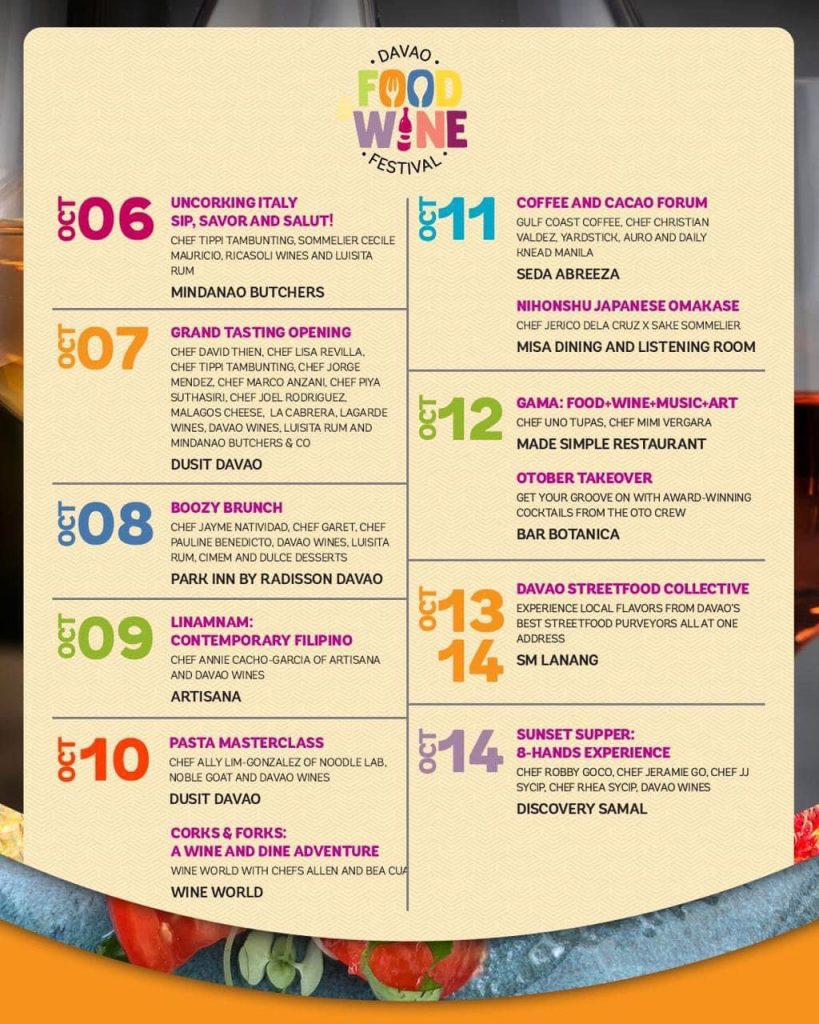 Here's a sneak peek at the festival schedule:
October 6 – Uncorking Italy: Sip, savor, and salute in Mindanao Butchers. Experience the flavors of Italy right here in Davao.
October 7 – Grand Tasting Opening: Get ready for a grand culinary adventure at Dusit Davao. It's a tasting event like no other.
October 8 – Boozy Brunch: Because brunch is always a good idea, especially when it's at Park Inn by Radisson Davao. Enjoy delicious food paired with the finest wines.
October 9 – Linamnam: Contemporary Filipino: Head to Artisana and discover the modern twist on Filipino cuisine.
October 10 – Pasta Masterclass: Learn the art of pasta-making at Dusit Davao and impress your friends at your next brunch.
October 10 – Corks & Forks: Indulge in a wine and dine adventure at Wine World that will leave you craving for more.
October 11 – Coffee and Cacao Experience: Seda Abreeza is the place to be for all coffee and cacao lovers. Dive into the world of these exquisite flavors.
October 11 – Misake: Enjoy an unforgettable dining and listening experience at Misa Dining & Listening Room.
October 12 – Gama: Food + Wine + Music + Art: Made Simple Restaurant is where food, wine, music, and art come together in perfect harmony.
October 12 – Otober Takeover: Bar Botanica is the place to be for an unforgettable takeover event.
October 13-14 – Davao Streetfood Collective: Get ready to explore the diverse and delicious street food of Davao at SM Lanang.
October 14 – Sunset Supper: End the festival with a bang at Discovery Samal with an 8-hands dining experience under the beautiful Davao sunset.
Tickets for these pocket events will be available through the Davao Food and Wine Festival's Instagram account: @davaofoodandwine. Send them a message!
So, gather your fellow foodie friends, put on your favorite brunch or dinner outfit, and get ready for a week of culinary bliss at the Davao Food and Wine Festival 2023. See you there, ladies!