IFEX, or the International Food Exhibition is the country's biggest international trade exhibition in the Philippines and in Asia. It accommodates specialty foods, fruits and vegetables, beverages, organic produce, local and international products and more. Roaming around the exhibition and discovering new local favorites and facts, we couldn't resist the giving the free taste samples a try! Through multiple taste test and finding new flavors, here are our top 5 favorites!
1. CDO
Corazon Dayro Ong, or CDO, is by far one of the biggest booths at the exhibition. It started out as a family business and a hobby. Later on, people were bombarding Corazon with her speciality so the Ong family decided to create a business for tasty goods. At this year's IFEX, CDO was generous enough to give a full meal experience in a small cup. It consists of CDO's beef tapa, egg and rice – the perfect tapsilog meal! If you have a small appetite, the sample would be quite filling!
2. Theo and Philo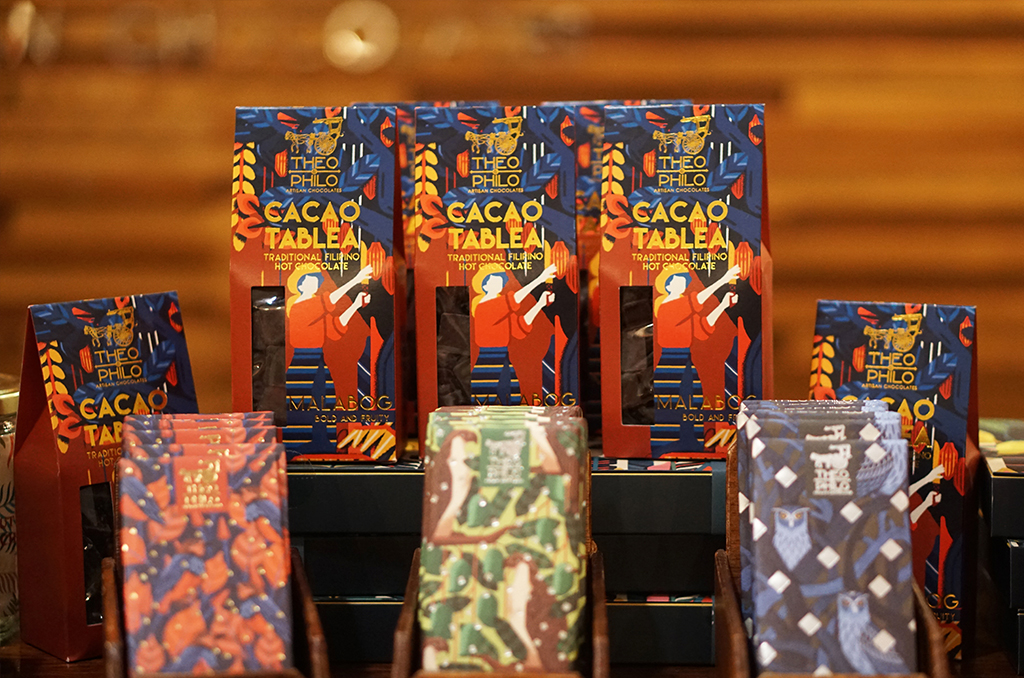 Theo and Philo totally caught our attention at the exhibition. First off, the name "Theo and Philo" has a unique and charming story behind it. Theo stands for Theodoma, the scientific name of cacao, while Philo comes from the word love. Combined together, the chocolate brand stands for 'love for chocolate'. We just couldn't resist! Their products are locally made. The richness and creaminess of the chocolate are combined by famous and well known products in the Philippines. One of their best sellers is the Dark Chocolate with Siling Labuyo. Interesting flavor, it has sweetness and hint of spice. They also created flavors that are infused with Adobo and other Philippine flavors.
3. Century Tuna
What we loved about the Century Tuna's booth was the variety of taste samples they gave out. Not only did their booth stand out at the exhibition but the fragrance of their products evolved through the hall. The dishes were created by their chef in their booth and was made to create tasteful spreads for crackers and bread. They also served bangus, also known as milkfish, separately with crackers or rice. Bring us back to the tuna pesto spread – it was so delicious!
4. Colonial Grill's Sili Ice Cream
Colonial Grill started out as a restaurant oin Bicol. The owner, Elmer Boy S. Aspe, wanted to challenge himself and his staff to create a different approach with dessert creations. Since the philosophy of their restaurant was to bring out the uniqueness of their product while using local flavors in Bicol, Elmer finally decided to create the sili ice cream. With lots of trials and errors, they have created the sweet yet spicy, sili ice cream. They used gata as their dairy, which balanced the flavors to become a nice cold dessert perfect for the country's heat!
5. Mama Sita's
Mama Sita's booth showed the true essence of Filipino culture. With their aromatic dishes and historical design, they're gonna be so hard to miss. Not only did they serve their famous flavors through Philippine dishes, they also brought out new products that are going to be released soon! One of the products is their champorado mix. Inside the packaging, it already consists of the heirloom rice and the 100% pure tablea cocoa. The mix of the champorado was curated for people to enjoy the richness of the tablea. It has the right amount of sweetness and thickness that a good champarado needs. Put some tuyo in your champorado and you sure have the perfect breakfast your stomach and tongue needs.
To discover more about the event, head on over to The World Trade Center this weekend and discover more about the businesses that our country has to offer!
#ScoopBiteBuzz | Head over to IFEX Philippine's Official Website for more information.