It's that time of the year again where everyone becomes the biggest fashion critics on social media. Step aside Miranda Priestly. The Met Gala, also known as Metropolitan Museum of Art Costume Institute benefit, is a black tie event which was held last May 7, 2018 to raise money for the Costume institute or better known as the fashion department.
Celebrities go big with their gowns and dresses to showcase this year's theme, Heavenly Bodies: Fashion and the Catholic Imagination which showcases the fashion and religious art that the museum has held in. With amazing and extraordinary looks designers have created, celebrities strut the benefit with jaw dropping masterpieces. Here are #ScoopStyle's Top 10 picks:
1.  Ariana Grande
Ariana has served us Vera Wang's interpretation of Michaelangelo's "The Last Judgement". A painting inside the Sistine chapel in the Vatican City. Not only is it beautifully crafted but it was also presented in the most creative way. Now we know that the Sistine Chapel has amazing works inside.
2.  Kate Bosworth
Kate has served us an Oscar de la Renta dress. Not only did he recreate her wedding dress but it gave us an angelic Kate Bosworth in gold specs. She's walked the aisle of the Met Gala elegantly for sure.
3. Janelle Monae
Janelle Monae came back stronger than ever! Her simple and elegant dress has caught the eyes by the beauty of it's simplicity. Let's all take a moment and admire Marc Jacob's design. Janelle's dress symbolizes her comeback to the world and is inspired by her album art cover "Dirty Computer".
4. Zendaya
Let's just take in Zendaya. How creative can Versace be? She's LITERALLY Joan of Arc! Well, Joan of Arc of the Met Gala 2018 and the 20th century. With every single detail, we know that she can strut the benefit with honor and grace with her armor. Stunning!
5. Cardi B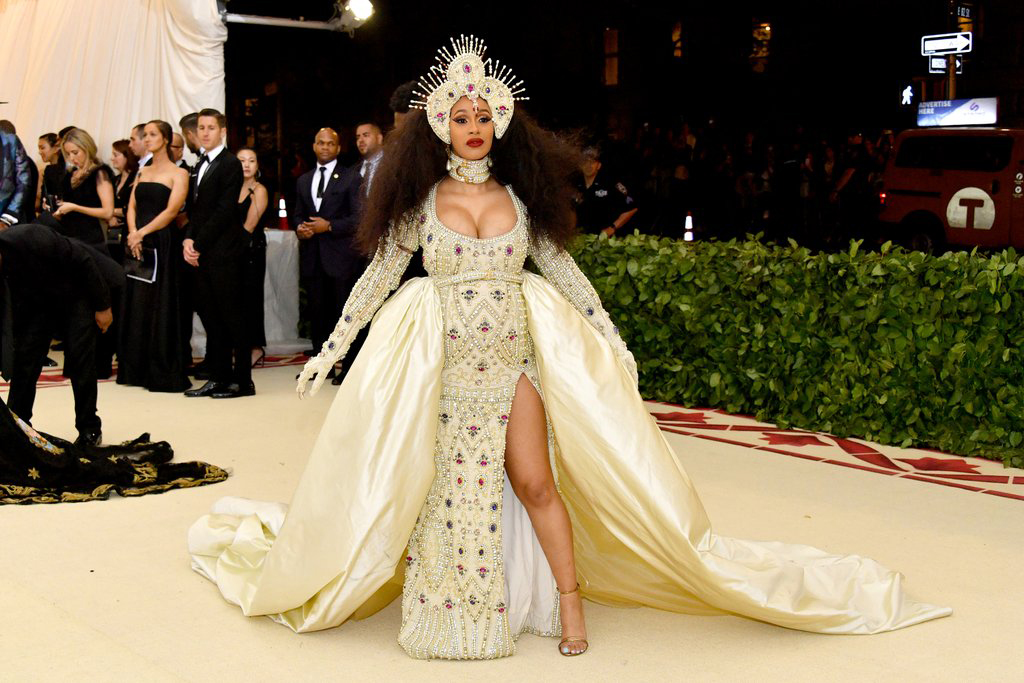 The pregnant rapper has our eyes glued to her stunning dress created by Moschino. Not only does the dress shows its elegance but it also displays a sexy curve to Cardi B's body. Is she even pregnant?
6. Chadwick Boseman
The Black Panther actor has shown the audience a beautiful Versace creation. This king knowns how to dress fashionably. All hail the king of Wakanda!
7. Jared Leto
Is this Jared Leto or Jesus? I don't want to hurt the Christian community but he definitely looks like Jesus. The Suicide Squad actor knows how to get into character that's for sure. His simple yet eye catching piece is created by the famous Gucci.
8. Blake Lively
Blake Lively does it again! Every year she has stunned us with her grace and elegance at the Met Gala but this year, speechless. She looks absolutely beautiful with her Prada dress. Even with the big red trail following her wherever she goes, her poise is always top notch.
9. Katy Perry
Did my guardian angel come to pick me up already? Nope it's just Katy Perry. Katy wings that outfit created by Alexander Wang. Her wings were definitely a statement in this year's Met Gala and we're not complaining.
10. Rihanna
Saving the best for last, Queen Riri has definitely owned the title for best dressed. Many says she looks like the Pope. I mean she kinda does and we LOVE it. Words can't express how beautiful the dress and headpiece are. It's made with so much detail that it needs to be bowed down. Good job John Galliano! You're masterpiece will be in our lives forever.
That tops our choices of the Top 10 most exquisite looks. With this hype, I bet next year's Met Gala will be more extravagant. Let's all wait and see.
Photo credits to Vogue and Time Magazine.
#ScoopStyle | Head over to MET Gala's Official Website for more information.